what our customers are saying...
Many thanks for the installation you did yesterday. A good job done well. All systems up an running very satisfactorily, I will certainly be making recommendations, thanks again.
I am elated with Fibre Up. My journey with this innovative company has been excellent, from my initial contact with professional installers & staff. I am more than satisfied with the cost of this service & will definitely recommend it to friends.
In a country where most companies in the service industry have no idea what service is, it is very refreshing to deal with a company that does give service in all areas.
I have always found Fibre Up to be extremely helpful when I've had a question or problem and would not hesitate to recommend their service to anyone.
At this stage I am pretty happy. I thought the installers were great, really easy to talk to and were very happy to answer all my questions. I even commented to them on how good it was to have someone explain things. If I have any problems I will be in touch, as it seems to me you are available and I can actually talk to a real person!!! How refreshing.
I'm one very happy customer 😊 I've never had a problem with Fibre Up Internet. From the guy's who set it all up for me; Barbara, who has answered all my questions and is always so pleasant; The price and the service I continue to receive have all been exceptional. Thank you for making my internet experience so carefree and enjoyable. Cheers,
I would like to thank the office staff who helped me greatly when I was confused. They stayed on the line to help me to use my phone and set up a Hotspot. Their communication when something goes wrong is fantastic. We had an outage this week after a big storm and the office staff were on the phone letting me know what was happening. Many thanks for your support.
Price is excellent and whenever there is an issue the support staff get back to us quickly and efficiently. Great to be able to talk to an actual person, makes a huge difference. Would have no problem recommending your services.
I signed up with Fibre Up from the very beginning. I have been absolutely delighted with it in all aspects. The quality of the connection and its reliability is exceptional. On the very rare occasion that I have needed to contact support staff, I have always been treated patiently, quickly, and in a very professional manner. I am very grateful for the service provided and am more than happy to recommend it to others.
My first contact with FibreUp was through the management here at Peninsula Parkland. I have been with Optus for 15 years as it is a good service. FibreUp is just as good and a lot cheaper than Optus and I am glad I made the change. Price and service are excellent.
We're all ears for your thoughts.
Hey there! Are you one of our valued customers? Well, we want to hear from you. Whether you love our service or think we could be doing something better – we're all ears. Share your review with us and guess what? You'll bag yourself a versatile Fibre Up ergo bag!
Feedback for a free gift.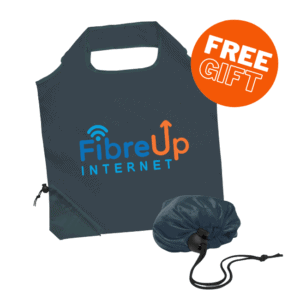 In a few words tell us:
1. How did you find our initial contact and install?
2. Are you are happy with the service we have provided you with so far? (both wi-fi internet performance & customer support)
3. Are you satisfied with the cost of our service?
What happens next? Look out for a Fibre Up ergo bag – coming your way.